Board24 manufacture corrugated sheetboard for a host of customers in a variety of specifications.
The emphasis on quality presents a number of logistics challenges for the large palletised loads.
With over 20 years' manufacturing experience, the company makes the raw materials for its packaging and box company customers, from  100% recyclable, 100% biodegradable and 90% recycled or recovered paper.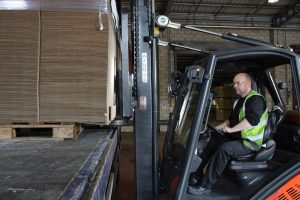 Fifteen years ago, when corrugated services manager, Lee Bullen, was beginning his career at Board24 in Preston, he felt the attention to detail was a little extreme…
"Since the day I started here the forklift truck drivers have always been under pressure to make sure the board is in perfect condition," says Lee.
"As a forklift truck operator I thought this was an impossible goal, lifting board with a forklift surely there are always going to be marks. However the management team were persistently setting very high standards for the business. Now, many years later, I'm running the department and we really do get the importance of striving for perfection."
"We set high standards in terms of our product quality and environmentally friendly approach," adds production manager, Andy Bridges. "We pride ourselves on an efficient, flexible service, helping our customers to meet deadlines and get the best specification possible."
Towards the end of 2015, Board24 invested in excess of £7.5m in a new corrugator. The development of the site was in response to ever-increasing customer demand for Board24's corrugated sheetboard, and a desire to improve productivity and use resources more efficiently. The following year the company received a commendation at the UK Packaging Awards 2016 for its Plant Investment.
Yet, when large sheetboards are stacked on overhanging pallets, and combined with the pressures of the 24/5 site, moving 2,500 packs in a typical day – enough for up to 60 wagon loads- that investment could be undermined were the stock to be damaged and customer feedback turn negative.
It's more than just good practice – there is a reputation to maintain. "Our quality is known," says Lee, "and damage to the product is unacceptable. That naturally meant that we were always trying to reduce wastage. The levels may be low, but we see it as vitally important that we deliver in a pristine condition."
This, despite the fact that large cardboard loads inevitably come into contact with the forklift's load guard. "We are discerning, with our own high standards, and this solution is very effective. If you took delivery of a new car and it was dirty, you wouldn't like it! There's nothing wrong with the car, but it's just not right."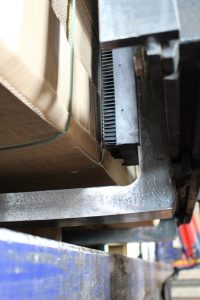 For the past few years, Lee's team wrestled with the problem. One fix was pipe insulation taped to the forklift load guard, but it wasn't ideal. Not only would it wear quickly, but as team leader, John, comments "it's time consuming and not a long-term solution." One operator searched for a better option and came across Invicta's load protection range. Invicta then carried out a site survey to determine the most appropriate product from the range.
The magnetically attached IDSA shock absorbers with pliable bristles are designed to cushion the impact of a load coming into contact with the fork uprights. The soft, fibrous co-polymer bristles spread the load impact and gently prevent damage to all manner of goods. A trial run soon demonstrated that the IDSA could be the perfect solution.
"The board was getting damaged – now it isn't. It's improved, full stop. Our previous efforts just didn't work anywhere near as good in protecting the packs." The pallets are also double handled, once to load or unload and once to store in the warehouse, so there is a lot of opportunity for damage. There are also 18 operators, but the solution is so simple and the results so good that not a single complaint has been raised about using them. Quite the opposite, they see the benefit. "It makes them look like better drivers," says a smiling John.
For Invicta, the return on investment was never in doubt. Preventing damage to a single pallet every month is more than enough for many to justify their investment. Once Lee reached the point where he knew the kit had more than paid for itself, he stopped counting.
"In the first two months we've seen a tenfold improvement. We have massively reduced our damage costs. It's a very low cost in any case, a small investment, for a big return. A marked improvement and a no-brainer… an unmarked improvement," quips Lee. But the true measure is beyond mere cost-saving.
"We think the product looks better. The presentation of what we do is everything. The biggest gain is not the reduction in cost but the 99.9% improvement in presentation. It just looks better and customers tell us their operators love our board. Its general flatness and neatness – it makes their jobs easier."