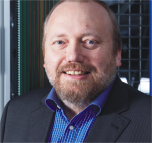 Fesco, the logistics arm of fashion brand fossil, is tasked with developing maximum efficiency in a rapidly changing industry. Managing director, Josef Otter, explains how Swisslog helps them to remain a consumer favourite.
How does Swisslog help your business?
With a wealth of new ideas, Fossil is opening up new business segments in the market as well as experiencing unusually strong growth in the traditional watch market. Logistics is therefore constantly undergoing a process of change and optimization. Thanks to many years of collaboration, Swisslog understands our business and can support us with innovative ideas to expand our supply chain.
What impressed you about Swisslog's proposal?
The shuttle warehouse gives us a number of advantages, including scalability, reliability, faster order processing times and compact storage. The shuttle from Swisslog is a balanced compromise between system weight, transport weight and size, so it is excellent for our purposes.
How important are online sales versus brick-and-mortar sales in your business?
Without a doubt, the rapid changes in our society have had an impact on consumer buying behavior. Convenient online purchases that save a trip into town will continue to gain greater market share. Social media tools contribute more and more to brand building and give customers 24/7/365 access to the merchant. Fossil's younger consumer segment expects professional offerings, including excellent logistics. Over the next few years we will see an even greater shift to this sales channel, and Fossil is very well prepared.
What were the key objectives or main challenges in your logistics operation?
Our logistics center ships to approx. 30,000 individual retailers throughout Europe as well as to partners in the entire EMEA region. Like all other lifestyle brands, we are witnessing a trend toward smaller order quantities that customers want in a shorter time frame. In recent years, our company has seen very strong growth in sales through our own Fossil stores and our website. In addition, we have optimized our partnerships with retail chains and implemented win-win solutions (stronger IT communication and cross-docking in the central customer warehouse). Even though the growth in these business segments is exciting, collaboration with retailers will remain extremely important over the long term.
Were you already a user of automation systems or did you need convincing?
No. Together with Swisslog we installed a Pick-by-Light system in the middle of the last decade. This very quickly proved itself in day-to-day operations and we received very positive feedback from our employees. Since 2008 Fossil has been working at varying levels of intensity with Swisslog on the benefits of using a shuttle system. Unfortunately, the global financial crisis delayed the decision to invest somewhat, but it is clear this project will be another milestone in expanding our intralogistics.
What are your goals for the business in the next 3 to 5 years? Forecasts are harder to make than ever in this economic climate, but Fossil is a strong brand. Thanks to the the number of fashion brands in its portfolio, Fossil has many opportunities to expand its business. We expect to, and will continue to, grow in the double-digit range.
How do you see your future operations changing in future?
Customer orientation, speed, and precision combined with inventory and cost optimization are the logistical challenges we will be facing more than ever over the coming years. That is where our focus will be. The possibilities presented by technology are virtually limitless, so using good IT solutions even more intensively than in the past will be absolutely essential for top-notch logistics. To keep on top of market developments and assess changes accurately, on-going co-operation with a global partner involved in many other business segments is extremely helpful.
Do you see any challenges within the e-commerce business?
We expect sales through this channel will continue to increase; integration through social networks and other media (e.g. television) will continue to grow. That will boost impulse buying over the web even more. Availability and speed of delivery will remain extremely important purchasing criteria. Services such as personalized orders, custom packaging, etc. will likewise continue to expand.