Our mates at Swisslog have sold hundreds of semi-autonomous robots that wizz about in warehouses to get your delivery to you in double-quick time.
Here's what their cool dude / Innovation Manager, Mike Hattrick thinks is next for us mere humans…
The latest marketing tactics, capturing our attention when we are on the move, may reveal a little more about the future of retail. An award-winning campaign highlights the trend that sees the convergence of innovative media and shopper-marketing ideas, in the process, solving a real business problem for the client.
Travelling through Gothenburg Landvetter airport a sign in the baggage hall grabbed my attention. It had appealing pictures with a tagline that translates as "come home to a fresh food delivery!" giving the tantalizing prospect that tired or busy travellers can simply scan the 2D barcodes beneath each product with their smartphone and have it delivered, trouble free, to their home. In fact they could order while waiting for their outbound flight knowing the order would already be delivered when they got home.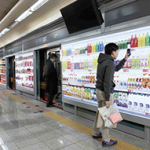 This is not an entirely new idea of course. In 2012, a photograph was published of a young man in a subway station in Seoul, South Korea. He appeared to be travelling from work, and was choosing his shopping for home delivery, again using a smartphone, this time on the subway platform. The wall was an LCD screen which allowed the retailer to vary the products on display with the click of a mouse – different products for morning and evening travellers.
But before we get frustrated at already being behind the curve, it's useful to know that those apparently high-tech Koreans were actually gullible victims. At least, they were the targets of an ad campaign by UK supermarket Tesco.
Tesco's market dominance in its home territory has been difficult to replicate overseas. With property expensive, and stiff competition from market leader E-Mart, the company hoped to build market share without increasing the number of their stores. Knowing that the Koreans work long hours (the OECD lists them as having the world's highest number of working hours), Tesco, owners of the Homeplus brand, decided to bring life-like shopping to subway stations to make it more convenient for people to shop.
The virtual stores present a mobile based shopping experience in the real world. Users simply scanned a QR code with their phone, and the product automatically lands in their online shopping cart. When the online purchase is completed, the products are delivered to the customer's door the same day.
The subway stores are credited with increasing new registrations to Homeplus and generating an increase in online sales of 130%. However, it still remains, essentially, an ad campaign. A clever one, designed to drive online traffic, but a campaign nonetheless. In recognition of this fact, Cheil, the agency responsible, was awarded the Grand Prix prize at the Cannes Lions International Festival of Creativity, where the judges actually questioned the campaign's effectiveness, but congratulated its creativity.
So what if our traveller wanted the drink for his journey? Innovative retailers have thought of that too. Stores are emerging where the consumer "scans to buy" then as they progress through a train station, picking up the product at a convenient desk.
I pondered on all of this on my drive home from the airport and was struck by the fact that when I saw the Seoul picture I was shocked and surprised, whereas when I saw the sign in Sweden I simply thought "aha, so that has arrived here also". In a short time something new and startling has become "the norm".
I also wondered what might be next? Perhaps if my airplane had been wireless enabled I might have made purchases mid-flight and be handed them at arrivals? Perhaps if I had been wearing Google Glass while driving home I could have glanced at something at the side of the road, selected "buy" and had it delivered to my home almost as quickly as I could get there myself?
What is certain is that retail has changed dramatically in a short space of time, and it will continue to do so, most likely in a way that surprises us all. At least for a little while before it changes again…