Calsonic Kansei is the number one supplier of automotive parts to Nissan, and one of UK's most successful manufacturers. Thanks to Rushlift, production remains firmly on the right road.
In the early 1990's, Rushlift became the company's material handling equipment supplier, and ever since has maintained this long standing partnership with the business.
Steve Ridley, logistics senior at the Calsonic Kansei Sunderland Ltd, explains: "We have worked with Rushlift for many years and have a strong relationship with them. We have gone through some changes over the years but Rushlift have always been our supplier for materials handling equipment and they have worked closely with us to offer excellent advice and service; we work well together".
Rushlift are different in a number of ways in how they work with their customers. They listen to their needs and requirements and provide expert advice to make sure that customers have what they need and that it works effectively.
Rushlift follows that up with fleet management, both online and in person, and regular advice on equipment availability, innovations and financing. Having decades of experience means that Rushlift can provide the optimal solution for the customer's needs. This is why Rushlift work with some of the largest, widely recognised industrial businesses, such as Calsonic Kansei.
One of the key components in Rushlift's makeup is information. Not just product information, but fleet performance, KPIs, fleet utilisation and the logging of servicing. The company was one of the first to initiate an online fleet management system (FMS).
Having been run and refined for a number of years, FMS has been expanded to allow service technicians to input the latest data via their handheld devices. So it's not only high quality machines with expert advice that Rushlift prides itself on, but also services that allow customers to become more efficient.
"Our guys regularly use the FMS system. It is a fantastic online reporting system which gives us traceability and accountability," adds Steve.
"We also have our own safety checks which we carry out on every shift daily, but in order to keep track of which operators were driving our machines, Rushlift introduced us to a key fob access system. Each fob is individual, so we can see who has accessed which machine and when. Alongside online FMS, we're able to closely track our equipment performance."
Occasionally, other positive influences and cost-savings are found as Rushlift's Tony Forrester, explained: "Steve discovered the key fob system had other beneficial effects, such as lowering insurance premiums. The equipment is more secure and the key fobs reduce the risk of theft," says Tony.
We rely on Rushlift to supply more equipment and also to change trucks more often…
"Ultimately, they paid for themselves," notes Steve, before adding that the communication between himself and Tony played a key role in bringing about such efficiencies.
"I have a great relationship with Rushlift and especially Tony. He understands the needs of the business and how spontaneous our job can be from one day to the next. I know I can rely on him to offer the right solutions. It's why we have suppliers like Rushlift, because we can rely on them."
"There are lots of small different projects that we've looked at," adds Tony Forrester. "The response to this latest equipment in particular, a fleet of Still hybrid counterbalance forklifts, just shows how the approach benefits each other. We can manage the equipment more effectively, bring fuel savings and increase productivity, which all improves efficiency. The improvements stem from our ability to work closely together, use the latest technology and choose from a wide range of equipment. As Steve says, it works well."
The industry, and Calsonic Kansei in particular, is returning to pre-recession levels, and this too has its effect on business with Rushlift."The more variety of models developed with Nissan," says Steve, "the increased quantity of products we make, meaning we rely on Rushlift to supply more equipment and also to change trucks more often. Getting new investment approved can be a long process, so we have to think ahead."
"Our Purchasing team has a lot of jobs to do, but I know which trucks I want to use and I know who I want to work with. If necessary, Rushlift provide us with a steady flow of replacements whilst we await our new equipment, meaning work can continue and everyone is happy."
An ever expanding company, the business has big plans for the future. "We are sending parts to Russia, Japan, Spain, and even France," says Steve. "We are supplying all over Europe and we hope to have €1bn turnover in the near future."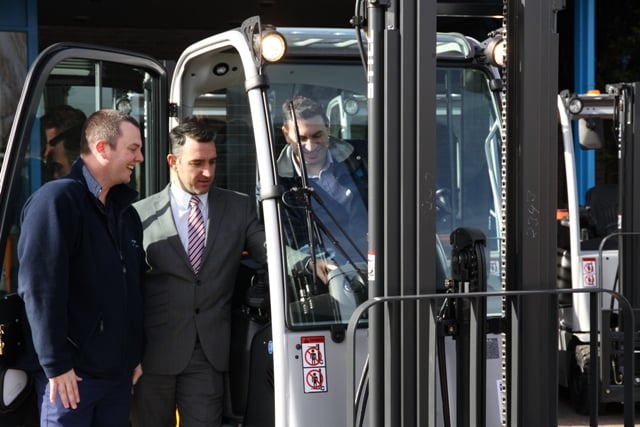 The results are clear for everyone to see. Calsonic Kansei has grown substantially over the last 12 years, adding new processes and equipment to an already complex production facility. Whether it's a cockpit module, heating, ventilation, an air conditioning system, front end module, exhaust system or electronics components, Calsonic produces complete part modules that work seamlessly together.
Their unique approach to integration is said to improve not only the overall design of some of today's most popular cars, but also increases quality, and lowers costs. Even so, they are not immune to recessions and when the credit crunch came, the business had to react accordingly, as Steve explained:
"Three and a half years ago when Calsonic Kansei took over from MKL Magna, we reduced our fleet for cost saving reasons and we ran as lean as we could, reducing the amount of trucks. Nissan then brought in new projects for which we produce many of the components."
"We chose to invest in a new paint plant and we also have over two million pounds worth of new mould machines on site. These run seven days a week, for 120 hours, producing 5-6 different parts. It ultimately meant we needed more trucks on site. If we have dips in work, we reduce the fleet, but when work picks up again, we need to re-hire. This is where Rushlift fits in; they are flexible, and flexibility is something definitely needed in our line of work."