Since the company's founding in 1983, WFS has established itself as a leader throughout the aviation community, by providing a broad array of quality and reliable Ground Services. WFS has flourished in scope and presence and now services over 120 of the world's major airports.
"We are used to the need to respond quickly, particularly where equipment is vital to the operation of our customers, but long lead times in specialist equipment is the norm, so this request certainly put our rapid response capabilities to the test."
By winning the Manchester Airport ground support contract for airline, Jet2.com, the managers at Worldwide Flight Services (WFS) had created one of the most challenging opportunities for Rushlift's Brian Grady.
Over £2.8m worth of equipment was needed in less than two months, and involved over 110 units of varied specialist ground support equipment that would typically take at least three times that long to source.
"Ground support means having the right equipment at the right location and to be able to respond to the demands of an industry that has severe penalties for delays," says Brian.
"From our first conversation to the first delivery took just eight weeks. In that time we dealt with over a dozen different suppliers to get their best possible production times and ensure the equipment was delivered on time."
WFS is a company that is already familiar with the Rushlift approach, having relied on the MHE side of the business to provide support at their Heathrow operation.
Unlike many MHE contracts, where Rushlift offers a high level of insight to reduce the costs, GSE requirements are usually driven by the amount of aircraft arriving at a particular airport at a specific time.
"You need two sets of steps – front and back – for passengers to embark or disembark. Four aircraft arriving at around the same time means eight sets of steps are needed – it's that simple."
Another part of the challenge was finding the right mix of new and used equipment to keep WFS within budget, and at the desired level of capability. Thanks to a great degree of hard work and the skilled personnel that know the GSE industry well, Rushlift was able to pull together exactly the right number of equipment for the Manchester installation.
Flying overseas to meet suppliers where necessary, the team pulled in favours and put in the extra hours to find the right items such as pushbacks, ground power units and belt loaders, with a host of baggage carts, towbars and steps also ordered for fast delivery.
"As a full service rental, maintenance and asset management business, we maintain and manage a wide variety of equipment, " adds Executive Chairman, Peter Cosgrove.
"Our GSE operation follows similar business rhythms as our existing businesses, meaning we bring a wealth of experience and expertise to a sector that has yearned for modernisation. By responding quickly and professionally, we gave WFS the confidence they needed to move forward with their ambitious plans."
The skills of Rushlift's sister-company, Specialist Crane Hire, were also brought to bear with the delivery of a Trepel wide body pallet & container high loader.
The loader made the long journey from Wiesbaden, near Frankfurt, to Manchester where it was carefully off-loaded using the latest mobile crane equipment.
"The attraction of going with Rushlift GSE," adds Gary Jenkins of WFS, "was their understanding of our business aims. From our perspective, we needed equipment fast, but we also needed it to be capable and reliable. Our experience with them to date had given us an insight into their business ethos and we were delighted with the way they rose to the challenge."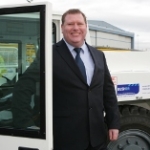 Rushlft GSE meanwhile continues to invest in their Heathrow facility and infrastructure, as well as offering long-term, bespoke contracts, and industry-leading levels of account and information management. Using the latest technology, customers are managing their own fleets online, ensuring they are fully aware of their equipment status.
Says Brian: "We also hold your important maintenance documentation online to ensure complete traceability. Our technical expertise is unsurpassed and, combined with a substantial parts holding, we maintain an enviable uptime record."
Providing excellent service means being there to make sure customer's equipment is working well and fit for purpose.
By accurately recording up-to-date fleet and performance data Rushlift can help you attain the highest levels of equipment utilisation and maintenance planning.
Together with tailored KPIs, customers like WFS are able to predict usage trends and identify potential future issues.
With total visibility of equipment and performance, they have the materials needed to manage usage and ultimately, lower costs.
"Whatever the equipment, whatever the circumstances, our priorities remain the same," concludes Brian, "a safe and timely aircraft departure."
"With thousands of individual items, hundreds of equipment types and dozens of manufacturers in their product portfolio, chances are, if it's meant to move,
Rushlift are already keeping it moving. We do not restrict our thinking when it comes to what is and isn't considered GSE. We are driven by our customers' needs and we will source any equipment necessary to get the job done."