AKW Global Logistics has been a leading light in warehousing and distribution services since 1986. It prides itself on being able to offer a flexible, customer-focused range of services and has continued to grow in what is a very competitive sector.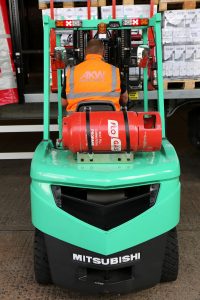 In 2004, the AKW Group was formed to create synergies between the two companies – AKW Global Logistics and AKW Global Warehousing. Two years later, the AKW Global Warehousing division was formed, and the acquisition of another contract packing company in 2008 saw the company completing their journey to offering a one-stop solution for their customers.
Based in Manchester, the Group now works with businesses throughout the UK, offering reliable warehousing, distribution and supply chain solutions to a range of industries such as fast-moving consumer goods and food & beverage.
To keep up with the growing demand for their services, AKW required a large fleet of reliable forklift trucks at two of their busiest UK sites. Located just five minutes from the logistics company's Bond 26 facility, Mitsubishi dealer Jofson Limited stepped in to ensure AKW could deliver on the promises to their customers.
"Our aim is to offer real value to our clients by providing a quality, customer focused and flexible service," said AKW's Warehouse Operations Leader, Karl Mould. "We offer a complete range of logistics solutions to businesses throughout the UK, including distribution, warehousing, transport, freight, and contract packing services."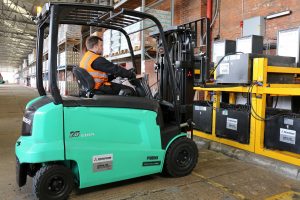 Twenty machines were supplied to AKW in total, including ten Mitsubishi FG35 Grendia counterbalance trucks, offering the most fuel-efficient engines in their class, plus seven fully refurbished electric Bendi trucks with a complete battery change system to allow 24/7 usage in the narrow aisle warehouses. The new long term contract will see Jofson assist AKW in handling stock as efficiently as possible.
Jofson sales manager, Jason Jordan says the new partnership required a deep understanding of the operation at AKW. "Most of the trucks supplied are fitted with double pallet handlers, and we have several more on standby ready for any eventuality," he explained. "The entire fleet is fitted with an FTC system; including pre-shift checks, pin code access bespoke to each operator, and impact detection. The counterbalance trucks are also fitted with a blue safety light on the rear of the truck"
AKW's Karl Mould was particularly impressed with the kit. "The machinery provided by Jofson is really good quality and fit for purpose," said Karl. "It was also great that we could get a few different types of machines from one supplier. We have lots of customers and therefore a variety of stock, so it was important for us to work with a business with a good range of materials handling equipment and a great local service. The guys at Jofson have gone out of their way to build a relationship with us, and we look forward to continuing to work with them in the future."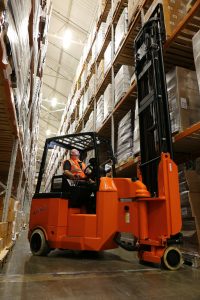 Despite working primarily as a Mitsubishi forklift dealer, Jofson also refurbishes and supplies machinery from many different brands, including Bendi and Linde, before renting or selling onto local customers.  In addition to a full range of counterbalance and articulated forklifts and a fleet of over 100 short term rental trucks, the business also supplies warehouse equipment from the Mitsubishi range. Employing over 35 field-based mobile engineers with fully-equipped service vans, Jofson delivers a professional service and a rapid breakdown response.
As the UK's largest supplier of Mitsubishi Forklifts and three-time winner of the Mitsubishi Dealer of the Year award, Jofson has supported businesses in the Manchester and West Midlands areas since 1977. Jason Jordan continued: "We are extremely pleased to be working with such a high-profile logistics group, providing a thorough and complete materials handling service. I am confident our knowledge and precise delivery will ensure a successful partnership with AKW Group."