Our mates at Swisslog have sold hundreds of semi-autonomous robots that wizz about in warehouses to get your delivery to you in double-quick time.
Here's what their cool dude / Innovation Manager, Mike Hattrick thinks is next for us mere humans…
The latest marketing tactics, capturing our attention when we are on the move, may reveal a little more about the future of retail. An award-winning campaign highlights the trend that sees the convergence of innovative media and shopper-marketing ideas, in the process, solving a real business problem for the client.
Travelling through Gothenburg Landvetter airport a sign in the baggage hall grabbed my attention. It had appealing pictures with a tagline that translates as "come home to a fresh food delivery!" giving the tantalizing prospect that tired or busy travellers can simply scan the 2D barcodes beneath each product with their smartphone and have it delivered, trouble free, to their home. In fact they could order while waiting for their outbound flight knowing the order would already be delivered when they got home.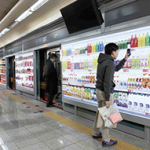 This is not an entirely new idea of course. In 2012, a photograph was published of a young man in a subway station in Seoul, South Korea. He appeared to be travelling from work, and was choosing his shopping for home delivery, again using a smartphone, this time on the subway platform. The wall was an LCD screen which allowed the retailer to vary the products on display with the click of a mouse – different products for morning and evening travellers.